The MBV® Process
The journey of the "Fortunate 500."
"I've been a part of this fortunate journey and seen it produce great results with customers and employees, while increasing productivity and profits throughout the process. Managing By Values®' works!" -- Erv Kamm, President and CEO, Digi International, Inc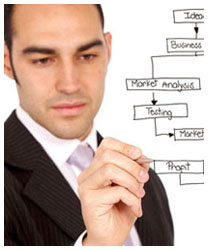 Managing By Values® is a practical process of developing, implementing, and committing to business practices that exceed the expectations of each of the organizations key stakeholder groups:
Customers: Delivering extraordinary customer service
Employees: Creating a fulfilling work environment
Owners: Providing enhanced value and worth
Significant Other Stakeholders: Building and strengthening long-term, mutually beneficial partnerships
There are three phases to this process:
Defining your values: What are the core values that will guide and enable you to fulfill your vision and purpose as an organization?
Communicating your values: Everyone who is affected by your business expectations must be aware of the values on which they are based, both internally and externally.
Aligning your values: Once youve clarified your values and communicated them to your stakeholders, it's time to focus on both organizational practices and individual behaviors. This is a continuous process of expectations and actions to bring your organization into closer alignment with its stated set of values.

Join the growing number of high-performing organizations that are realizing the success possible through Managing By Values®. Life Associates and The Center For Managing By Values offers a variety of MBV® products and services to help your organization establish and implement its values-based business practices, for sustained business success.

Contact us for a complimentary assessment.

See MBV® Webinars and Workshops



"An organization that can find solid footing in all its key business relationships when so many others are slipping and sliding around is indeed a fortunate one."
From Managing By Values